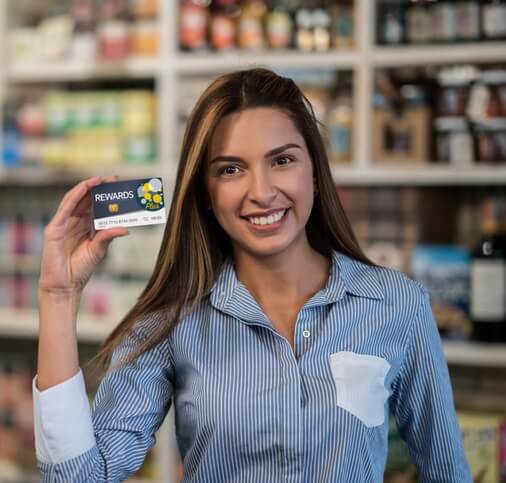 Keep customers coming back with automated loyalty points management
Catapult's reliable and revolutionary marketing and loyalty platforms require no additional third-parties to offer a full-spectrum loyalty points and marketing solution. From one commerce platform, a retailer can increase the size and lifetime value of their customer base, calibrate marketing campaigns, manage self-hosted gift card programs, and access membership data.


Keep customers committed and grow your fan base
Shoppers are more likely to build brand loyalty when incentivized through loyalty promotions. With Catapult Loyalty Points, Merchants can collect valuable customer data in exchange for points, which the customer is able to exchange for value in your store. The Merchant decides the rate of value and a variety of other metrics offered in their program.
Customers can be identified by phone number, name, company name, or customer cards can be printed for faster identification. For those looking for a faster more secure solution, Catapult's Secure OneTouch is a biometric identification system that allows for easy and secure customer recall and no need for expensive card printing or fumbling with cell phones at the cash register.
Take Advantage of Unified Transaction Logic
Catapult's Loyalty Points system is available everywhere your Catapult POS System is running at a cash register at the point of sale, self-service checkout, mobile POS, or even on WebCart, Catapult's Online Ordering Click & Collect system. Say good-bye to data silos and multiple 3rd party applications with expensive interfaces and ongoing maintenance.
Automate Your Email Communications & Rewards with LoyaltyBot
Retailers want more touch points and LoyaltyBot delivers.
Many retailers already have email campaigns using 3rd party email services, but those services are a manual process of importing the up-to-date customer databases from various point of sale, loyalty, or online ordering systems, and carefully merging them together in order to send email blasts, ensuring that they do not duplicate emails and accidentally email unsubscribed customers. This cumbersome process is time consuming and error prone, and often requires a lot of administration and management effort to keep regular communications with their customers.
LoyaltyBot provides a variety of loyalty automation features with a similar email blast-type platform. In addition to the periodic manual email, using LoyaltyBot retailers can benefit automatically with rewards and pre-designed email templates. Those templates can be automatically triggered using preconfigured criteria such as based on birthdays, holidays, customer enrollment anniversaries, frequency of shopping, purchasing ranges, and program enrollment.
E-Coupons
LoyaltyBot has the ability to send customer-specific digital incentives directly by email to the customer. The e-coupon is automatically connected to the customer record in Catapult, so when the customer wants to redeem the benefit, they don't need to furnish a physical coupon or fumble around with their cellphone. By simply identifying themselves during the transaction at the POS with their customer card, phone number or Secure OneTouch Biometrics scan, the e-Coupon is seamlessly available to be used, or the customer can save the incentive for later. By tracking e-coupons this way, they cannot be counterfeited or duplicated, and merchants have real-time data about the effectiveness and use-rates of the coupons used at the POS and exactly who used them and what they bought.
BasketLift
Using Catapult Loyalty, merchants can track the average spend of their customers on a monthly basis. Using BasketLift, a value add feature inside LoyaltyBot, merchants can set spending tiers and LoyaltyBot will automatically analyze all Loyalty customers and then send digital coupons to those customers incentivizing them to increase their average spend above the next tier on their next visit. In so doing, some merchants have seen significant sales increases for their loyalty customers that participate with very little marketing effort by the merchant. Just set it and forget it, and let Catapult do the work!
Punch Card Rewards
We live in a digital age, where physical loyalty punch cards are quickly becoming a thing of the past and have historically been difficult for customers to keep up with and remember. Catapult conveniently provides these customer loyalty incentives through a digital, automated Punch Card Reward LoyaltyBot trigger for the repeated purchase of specific items across multiple transactions. Catapult automatically tracks these digital punch card programs for designated items and groups of like items (Ex: purchase 5 cups of coffee and the 6th cup is free, or purchase 5 cups of coffee drinks and the 6th coffee drink is free). You can also make the reward (the free or discounted item) something entirely different from the items that create punches, such as a free donut with the purchase of 5 coffees.
Make Social Media Work For You
Get your customers to work for you by buzzing about your offers! BuzzBot®, an innovative feature within LoyaltyBot, can be used to reward shoppers when they share a store's events, newsletters, or promotions through their social media networks.
Loyalty Highlights
Increase your customer touch points
Track everything with extensive reporting
The Merchant owns and has access to their data
Configurable email campaigns and templates
Incentivize repeat business
Easy customer association at the start, middle, or end of any transaction
Reduce risk and fraud with digital e-coupons
Increase customer spend