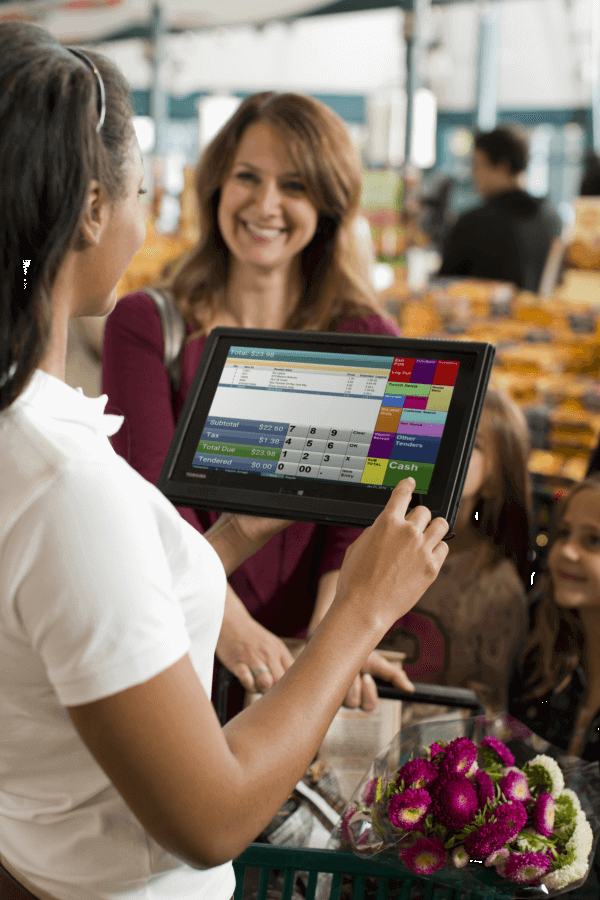 Transcend The Checkout With Catapult Mobile POS
Reliability and convenience define Catapult Retail Mobile POS. Handheld tablets that are made for point-of-sale use, fully equipped with an on-board scanner and wireless receipt printer give retailers and grocers the ability take the POS anywhere customers want to be served.
Line Busting Made Easy
At peak times and special events like Christmas and Thanksgiving, lines become longer and customer wait times become a problem. Some customers simply won't wait. At times like that, a mobile POS handheld terminal can make all the difference in the world.
Armed with a wireless mobile POS with a built-in scanner and wireless belt printer, a trained cashier can go out to the line and pre-scan customer purchases, and provide them with a barcoded receipt. When the customer arrives at the checkout, all they have to do is scan the receipt and pay – everything is already scanned – saving time and reducing lines.
Whether running on a traditional POS lane, or on a handheld mobile POS lane, Catapult is the same POS software on either platform. This makes installing, configuring, and maintaining Catapult mobile POS handhelds extremely easy. It also reduces training time in stores significantly because cashiers and managers are already familiar with the Catapult POS software.
No Connection Required
Seamlessly redundant POS allows user to continue a transaction whether in or out of Cell or Wi-Fi range. The system automatically syncs up, sending completed transactions up and bring new pricing down, as soon as the connection is re-established.
Receipt Options
Customer receipts can be printed, stored within a customer's account, or e-mailed. Equip your mobile pos cashiers with a belt printer and they become the ultimate in retail efficiency.
Recall Transaction Barcode
Not able to complete the whole transaction on the floor? No problem! Simply prescan your customer's order in the buggy and then suspend the transaction. The belt printer will produce a barcoded receipt that you can provide to the customer – then send them on their way to the traditional cash register lane for payment or weighed items. When the customer gets to the cashier lane, they scan the barcoded receipt, the transaction is automatically recalled – easy. Using this strategy line-busters equipped with properly equipped Catapult Retail Mobile POS tablets can reduce transaction times at the lanes 50-80%.
The Most Powerful e-Commerce Picking Solution
Pro Tip! The Catapult Retail Mobile POS can do double duty using the optional Catapult PickAssist module! Catapult mobile tablets are ideal for quickly picking eCommerce Online Orders generated from your fully integrated Catapult WebCart. To take full advantage of the Catapult pick solution, you need a compact but fast hardware solution. Unlike competing pick solutions, PickAssist allows you to process multiple orders at once, guiding personnel through the store using the most efficient pick order route possible. It also seamlessly corrects and appends orders whenever deletions, additions and/or substitutions are made. With Catapult WebCart coupled with a PickAssist Mobile POS tablet, you'll never have to re-enter or re-scan an order at the POS lane from a 3rd party email or app, an extra step that competing solutions require. Additionally, this hardware/software combination is ideal when used to service curbside pickup orders to the customer's car.
Mobile POS with Catapult
Decrease checkout lane traffic via line busting while delivering a personal experience
Use in mobile environments such as café, sidewalk sale, or garden center
Fully-functional POS with transaction speed
Seamlessly redundant POS, allowing the mobile device to transition from online to offline and back to online, automatically, as the user transitions in and out of wi-fi range
Does not require special integration, uses standard Catapult software
Intuitive Consumer On-screen signature capture for credit and Rx transactions
Signature capture and prompting meet all Rx and HIPPAA requirements
Receipts can be emailed or printed via the optional wireless printer
Operates with RXServer, great for pharmacy drive-thrus or when pharmacy lines get backed up
Operates with Catapult Membership Server (CMS)