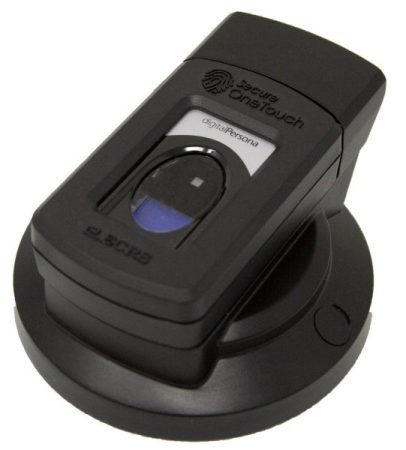 Fast, Simple & Convenient Security
Nobody likes waiting in a long line. In fact, a recent survey indicates that a whopping 74% of retail customers find waiting in the checkout line their least favorite aspect of shopping. What if you could make 74% of your customers happier? What would that mean in terms of repeat business, "word of mouth," and, ultimately, your bottom-line?
Our engineers and designers hate waiting in lines, too, so they spend every working hour thinking of ways to eliminate unnecessary checkout steps. Their goal is to find solutions that make the checkout process as fast and smooth as possible for your customers.
The all-new, patent-pending Secure OneTouch® biometrics fingerprint reader for Catapult Retail POS is one such solution and is designed to put your checkout process in friction-free, hypersonic mode. This idea is simple, secure, and convenient, and it's very fast.
With one touch of a finger, Secure OneTouch® Biometrics allows your customers to:
associate themselves to the transaction
instantly receive e-coupons
automatically accrue loyalty points
pay for their merchandise
Made from durable ABS plastic, the Secure OneTouch® fingerprint reader becomes an attractive addition to the customer interface at the time of checkout.
The biometric surface can be easily used from either direction in order to accommodate the cashier and customer without having to move the device.
How Secure OneTouch® Biometrics Works
The Secure OneTouch uses biometrics so that customers and employees can associate themselves to their store account with only a single touch. The unit's biometrics reader scans dozens of points from the user's fingerprint, offering ultimate security.
The moment the user touches the biometric reader, the system begins searching for the associated customer record. If the biometric scan is matched to an encrypted customer record, the system will associate the customer to the transaction.
If the consumer also has a tokenized credit card recorded within the CATAPULT retail success suite, the system will allow the attendant or consumer to finalize the whole transaction, without needing to swipe a physical credit card. This new feature can be marketed within your own store using our trademarked "Secure OneTouch®" brand name, which is only available to CATAPULT retailers.
Biometrics Q&A
I feel like my customers will be intimidated by this feature – is this a concern?
Catapult POS has been installed with fingerprint biometrics readers in hundreds of locations. Our experience has shown that customers prefer the option to pay and associate via the fingerprint reader.
Customers who prefer traditional transaction methods can continue to checkout as they currently do. However, we anticipate that many will embrace the simplicity and convenience of this feature, and ultimately be more appreciative and emotionally attached to your retail business.
Consider the busy parent juggling a child, purse, wallet, loyalty card, and credit card. The forgetful person who left their wallet in the car. Or the millennial who is used to making online purchases with a single click. While new technology takes time for everyone to embrace, the early adopters will thank you for making their lives just a little bit easier.
Does the Catapult POS store the customer's fingerprint?
Absolutely not. CATAPULT only stores a partial mathematical pattern translated into a numerical ID, that can be used to match up the fingerprint in the future, on the same device. For even more assurance, the system Triple DES encrypts this numerical ID, so in the end, it becomes a puzzle wrapped in a mystery, inside an enigma.
Can Biometrics be used for cashiers to log in, prevent abuse at the POS, or provide security for employee discounts?
Absolutely! We offer a cashier facing kit that enables biometrics security at the cash register as well.
With Secure OneTouch® Biometrics, Catapult provides another tool to make your customers' lives easier and more convenient.