Proudly serving Toronto since 1979
Armagh POS Solutions is your trusted local provider of Point of Sale systems for quick service / fast food businesses in the Toronto area. When you partner with us, you'll get a multi-channel programming POS solution that becomes the data infrastructure for all your revenue centers, both on-premise and online, whether you own single or multiple locations. Contact us today to speak to a Quick Service POS systems consultant.
More than just fast food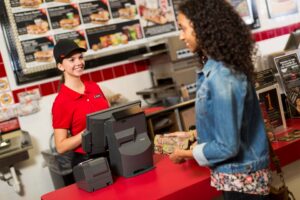 A Quick Service POS needs to provide more than just fast service. From counter service to drive-thru you can order it, confirm it, bump it, park it, or pay it … We've designed the features for your operation! Combo meals made easy … Digital Dining automatically recognizes the menu items and adjusts the price. Our "suggestive selling prompts" stimulate new sales and create coupons to bring 'em back again. Lines too long? Cars backed up? Use Digital Dining Handheld to "line bust" … Now that's Quick Service!
Counter Service POS
Save screen space by using the dual mode Counter Service POS. The POS has a full screen of prep items, a full order screen with 48 quick server keys, and the ability to access thousands of items at the touch of the screen. Use the "on the fly" video feature to reduce prep times, ensure flexible kitchen routing, and promote quality production.
POS Prep Screen
Complete orders quickly by configuring the Counter Service POS to display four to eight of the last orders servers have taken. The POS clearly indicates whether the server should bag the order or place it on a tray.
Kitchen Video
Digital Dining's kitchen video system reduces the average serve time by combining easy-to-manage kitchen routing options, "on the fly" prep features, and onscreen POS prep instructions.
Drive-Thru POS
Manage one, two, or three window drive-thru operations efficiently with Digital Dining's drive-thru POS. Add Handheld POS terminals to your drive-thru operations to expedite orders during peak hours of operation.
Drive-Thru Display
Speed up drive-thru orders and eliminate errors with the drive-thru customer confirmation display. The display screen, located with the menu board, allows customers to view their orders and correct any mistakes before they drive to the pick-up window.
Handheld POS
Extend your order handling capacity during peak hours of operation with the Handheld POS. Handhelds allow servers to take orders in the front counter line and have the same functionality as a normal fixed-counter POS. That means servers can take orders and accept cash payments quickly and easily. Use handhelds to deliver fast, convenient service at your drive-thru service as well.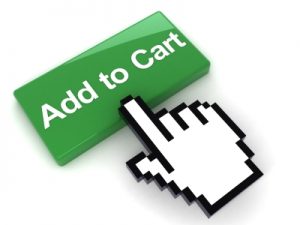 Online Ordering
Whether for take out or delivery, Digital Dining has your online ordering needs covered! Our turn-key solution allows you to customize your online menu and post it on your existing website for use by both desktop and mobile web browsers. Don't have a website? No problem! We can allow your customers to order online through your Facebook account! Pay online or instore for pick up orders, curbside, or delivery. Orders automatically print in your restaurant's kitchen with customized layouts so that your staff never mistake an online order ever again! Finally, track all your online ordering to a separate profit center so you can accurately report on it later.
Automatic Suggestive Selling
You can create order profiles in the Back Office that run on the POS. When customers order certain items, the POS displays suggestive selling prompts right on the order screen.
Delivery with Driver Tracking
Many quick service restaurants have a significant delivery business. Your service staff can manage this with ease, tracking the delivery order with customer addresses, telephone numbers, and email addresses. Enter a customer once, and recall them every time they call for an order. Your kitchen will know it's for delivery or takeout because Digital Dining can customize the prep printing in the kitchen so they recognize it every time! Track your take out orders to a separate delivery profit center, so that you can report on it at the end of the month to see how that facet of your business is progressing.
Credit & Debit
Integrated credit and debit streamlines transactions making them more efficient, prevents server entry errors, can reduce payment fraud, and practically eliminates the time to reconcile electronic payments. Armagh POS Solutions has multiple Canadian processors available that provide integrated credit & debit with "Tap & Pay" and other contactless payments like Apple Pay.
Gift Card & Gift Certificate
Whether you are new to Gift Card or have an existing gift card program, we've got you covered! Our experienced technical support staff can examine your existing gift card program to see if we can reuse your existing card media and convert your existing liability to Digital Dining. If you don't yet have a gift card program, we can help you design a custom gift card that leverages the marketing collateral of your restaurant brand. Optionally sell "virtual gift cards" online using our turn-key online gift card program. Prefer gift certificates instead? No problem! Digital Dining can sell and track gift certificate numbers and ensure that your certificates are being properly tracked and managed.
Combo Meals
Order components of a combo meal anywhere in an order using the dual mode Combo Meals feature. The POS sends the right items to prep and calculates the bill accurately.
Mobile Reporting & Alerts
Need to stay connected to your quick service restaurant 24/7? Digital Dining's optional mobile reporting app is for you! Download our app from the Apple or Google Play Store and connect to your restaurant's data stored in the cloud whenever you need information. Improve your mobile control by assigning a variety of reporting criteria and receive automatic alerts for key metrics such as the total # of checks, tables, sales, voids, refunds, and more. On or offsite, with Digital Dining, you'll never miss a beat!
Time & Attendance
Take control of your labour costs! Digital Dining allows staff to clock in right at the POS and assigns proper pay rates and POS features based on each staff member's department. Eliminate "buddy clock ins" with the integrated Fingerprint ID. Add labour scheduling with our cloud web interface and enforce clock ins and clock outs to prevent your staff from taking advantage of early clock ins and late clock outs.
Fingerprint Security
Nothing provides higher security with more convenience. The Fingerprint ID allows staff to clock in, clock out, and perform functions like voids and refunds based on their security levels. Eliminate costly "buddy clocking", abuse of discounts, coupons, House Charge and paid outs, and protect literally any feature in Digital Dining with fingerprint security. Is your restaurant too small to have a manager on staff at all times? No problem! Fingerprint ID can be used to provide the owner with 100% identity confirmation on any function used in Digital Dining.
Digital Dining Restaurant POS System Brochure