Automatic Tracking = More Renewals and More Profit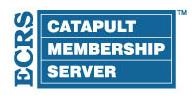 The Catapult Membership Server (CMS) gives cooperatives and membership-based stores streamlined control over their member programs by tracking vital information in real time right from the point of sale (POS). Member discounts can be calculated by price level, subtotal discounts, or both. Any number of member class profiles can be set and customized for greater versatility with member programs. CMS lets the cashier know the customer's account status immediately with an integrated interface that never requires leaving the point of sale. CMS provides integrated POS security for adding members, paying fees, refunding accounts, and more. Administrative rights are password protected and allow users with the proper security level to edit price levels, membership fees, joining fees, payment frequency and just about every other aspect of member accounts. A powerful reporting engine provides information vital to cooperative and member-based programs.
Catapult Membership Server Features
Register New Members On The Fly at the POS
Track Member Patronage
Calculate Equity In Real Time
Family Member Level Tracking
Robust Linux Server Architecture
POS Environment Integration
User-Based Security Access
Browser-Based Administration
Detailed Back Office Reporting
Profile-Based Discounts
Pre Pay Fees
Price Level Discounts
Subtotal Discounts
Member Data: Real-Time, Centralized, and Scalable
CMS utilizes modern web services technology to centralize all member account data across any number of store locations. Whether you have one store or hundreds of stores, CMS scales effortlessly so that your membership data is up to the second and accurate at all of your locations.
Plug-and-Play Integration
Upon licensing the CMS module, users simply make the appropriate selections in Catapult and the Catapult Membership Server is automatically integrated into Catapult's POS and existing customer tracking interface. CMS provides users all of the information that they need at the touch of a button.
Browser Based Administration and Reporting
CMS Maintenance leverages modern web-based technology that allows users to manage profiles and accounts, and get up-to-the second reports from anywhere with an internet connection.