A touch of flexibility. The retail scale experts at Ishida introduce the very latest in touchscreen weighing solutions, the Ishida Uni-7 touch screen scale label printer. With several configurations available, all with front-loading media cassettes, the Ishida Uni-7 system is the flexible system for your retail weighing requirements.
Marketing Tools
Attract and entertain customers with displays and advertisements using the full colour customer screen. Even simply showing a full colour image of an item when the PLU is selected can enhance consumer confidence. Automated discounting features enable flexible in-store promotion activities.
Automatic Media Selection, Quick Change Media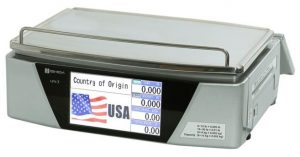 Pre-packing for several retailers, all with different label types? Inserting one of a possible 7 media cassettes automatically triggers the Uni-7 system to identify the correct label design for the media size and format. With the front-loading design and a spare cassette on hand, it takes just seconds to swap out an empty cassette or to change label types.
Applications
The Ishida Uni-7 is suited to labelling and receipt issuing direct to customers, and also pre-packing goods prior to sale:
Supermarket
Meat & Deli
Bakery
Grocery
Food Production
Easy to Use, Simple to Program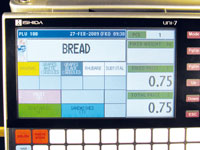 It's the end for the cluttered product-led keyboard. With a Uni-7 system, the intuitive touchscreen interface allows a drill-down method to select the correct items quickly and effortlessly. The membrane keyboard can then be used only for the central core of fast-selling products. For user-friendliness and fast user training times, touchscreen technology simply can't be matched. Creating and modifying product lines is simply a breeze.
Software Utilities, System Security
To make things even easier, SLP-V software is available, providing total user control in creating and collecting scales data. It also has the functionality to manage label designs and keyboard layouts. For total peace of mind, all programming menus can be password-protected to safeguard system data.
Future-Proof Technology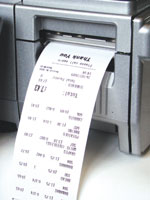 Using standard Ethernet connectivity, there's no need for proprietary networking equipment. Optional wireless communications are available for any company looking to reduce in-store cabling. For the latest in barcoding developments, the Uni-7 is GS1 Databar ready.
Specifications
Weighing Capacity
15kg: 0–6 / 0.002kg, 6–15 / 0.005kg 30lb: 0–15 / 0.005lb, 15–30 / 0.010lb
Weighing Accuracy
1/3000
Power Supply
AC100 – 240V , 50 / 60Hz
Power Consumption
1.0A/0.5 A
Operator / Customer Display
7-inch color liquid crystal with backlight
Keypad
84 keys (Dextersy keys)
Printing Method
Direct thermal
Thermal Head
2 inches and 8 dots/mm
Printing Speed
MAX 120 mm/second
Label Size
Width: 30mm to 60mm Length: 20mm to 150mm
Number of Cassettes
7 cassettes (front-loading type)
Roll Size
Outer diameter: ø100mm or less Inner diameter: ø40mm ±1mm
Weight
Bench type: Approx.11.5 kg Pole type: Approx.12.5 kg
Use Conditions
Temperature: –5 to 40 ºC Humidity: 20 to 85% No condensation
Input / Output
LAN × 1 (Wireless: Optional) USB × 1 CF × 1 Drawer × 2