Anne Collins Outside The McMaster Hospital Give Shop.
Armagh prescribes Catapult as dual purpose POS system for hospital cafes, cafeterias and gift shops
This is definitely not your average volunteer association.
The Hamilton Health Sciences Volunteer Association's (HHSVA) "Make a Purchase, Make a Difference" program generated $13 million in profits that was used to enhance patient care across the six healthcare institutions it serves.
Keeping track of growing sales volumes at the 11 cafés and cafeterias, and four gift shops the association operates is much easier today thanks to a POS system (point-of-sale) implemented by Armagh POS Solutions during two separate deployments, says Anne Collins, Director of Retail Operations for HHSVA.
"A big part of what we do is provide customer service excellence across our food and retail operations. The cash system is a huge part of that commitment. If the system isn't working properly that means patients, guests and staff in every hospital pay the price."
Anne, who during her 21 years with HHSVA has seen the good, the bad and the ugly when it comes to POS systems, says working with Armagh and the Catapult system over the past six years has been a breath of fresh air. That relationship began in 2010 after Anne spearheaded efforts to replace aging POS terminals in the association's gift shops.
"Our goal at that time was to link our gift shops under one system that could be accessed from our head office," says Anne, adding she put out a call for proposals.
The winning provider, she noted, would face unique challenges including:
Working within the requirements of the hospital networking system. "I warned Armagh from the outset that a successful deployment would involve communicating with people involved in networking, security and external IT services. Larry (Wolfe) of Armagh assured us that wouldn't be a problem, and surprisingly to me, he and the Armagh team continue to live up to that promise."
Implementing a reloadable gift card program that would allow patients, guests and staff to make purchases at any of the association's gift shops. The On the Go gift card program has been warmly received by staff, guests and patients.
Armagh was selected to install its Catapult POS system in the hospitals' gift shops based largely on its commitment to providing the highest level of service. "We could see that Armagh had put a great deal of work into really understanding our needs. They recommended the Catapult system, showing us how it could meet all of our needs at the time, and well into the future."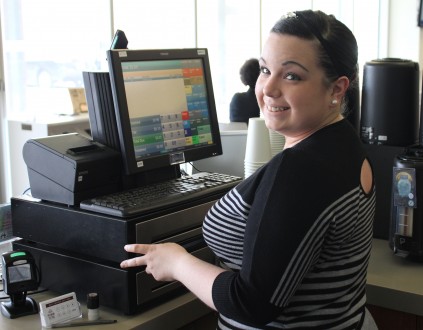 Five years later, Anne was back in the market to upgrade the aging POS system in the association's food service operations spanning 11 coffee shops and cafeterias.
Larry Wolfe, who has headed up Armagh's retail POS operations for almost 26 years, says he was confident Catapult could meet the demands in HHSVA's food services operations as effectively as it had in the hospital's retail gift shops.
"ECRS Catapult with Toshiba hardware is powerful and flexible, providing a single solution for gift shop and food operations. With the experience we have gained in hospital settings, I am confident we can deliver a higher quality product than any other provider in the marketplace. It provides the perfect solution for pharmacy operations as well."
That confidence shone through as Armagh delivered the winning food-service POS system.
Despite being familiar with Armagh and the Catapult POS system, Anne worried about the impact on customers and staff during the installation and implementation. "It went much smoother than I ever imagined, despite the challenges of dealing with the networking requirements," says Anne. The entire system was up and running efficiently in about 30 days.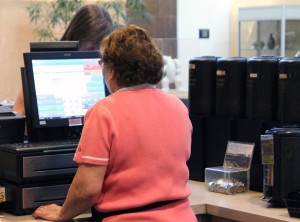 HHSVA Cashier at Catapult POS system."Most of the work was done during overnight hours when our cafeterias and cafes were closed. But even at our 24-hour café at McMaster, the Armagh team pulled out the old system and installed the new one in just three hours. It was hardly noticeable."
One of the greatest benefits is having information at her fingertips. "With our previous system the information we had was site specific. We had to go to each site to gather date. Today I can sit at my desk and the information is all at my fingertips.
I can pull information by site, or all together to find out what our top selling items are across all the sites. I can see sales, profit and profit margin all in one place."
Anne says she and her team value what Armagh has delivered, beyond hardware and software. "Our relationship with Armagh is truly a partnership. They are always there for us. In the last six months, they were there again to help us as we closed two small coffee shops and opened two new new ones"
Catapult Launches OnTheGo Reloadable Cash Card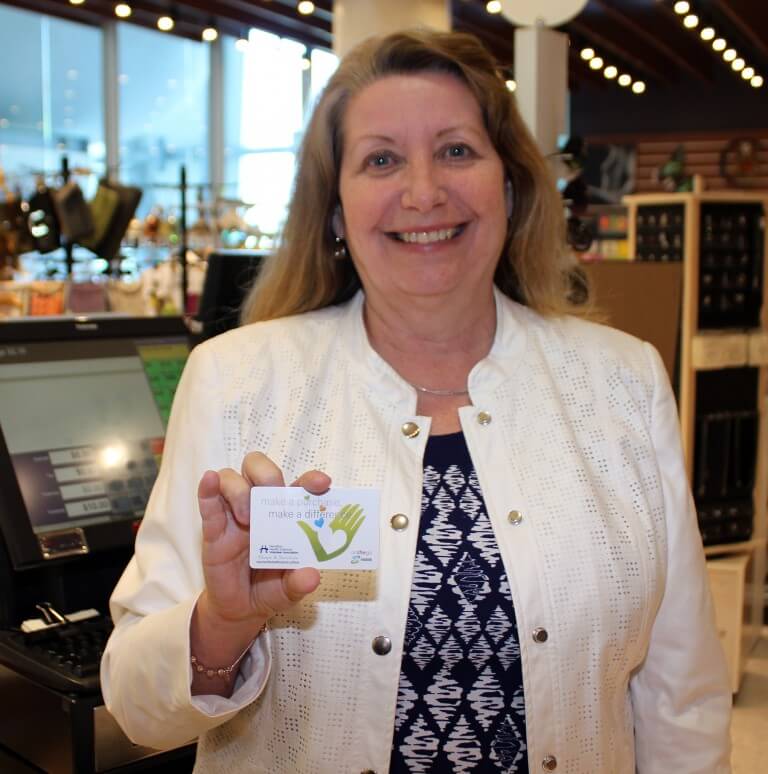 Armagh was able to deliver on two 'must-have' features with its Catapult POS solution, making no-fee cashless shopping and lotteries winning propositions for patients, guests and staff at Hamilton Health Sciences facilities.
"A reloadable gift card was one of the criteria we had in mind when we began looking to upgrade our gift shop POS system in 2010," says Anne Collins, Director of Retail Operations for Hamilton Health Sciences Volunteer Association.
"Today, our OnTheGo program is popular with staff, patients and guests. Large numbers of staff are using the On the Go card, and carry it in their ID badges. It's very convenient for them – they can stop in to buy a coffee without worrying about carrying cash. And there's no fees."
Patients and their families like it for the same reason – they can buy items anywhere in the hospital without worrying about cash or credit cards.
The On the Go card – which can be loaded with $5 to $500 – can be used at gift shops, cafeterias and cafés at any of the six hospitals operated by Hamilton Health Sciences. The printed receipt from each purchase tells users how much remains on their card.
Another POS challenge facing the association was HELPP ticket and lottery sales. "With HELPP, it was very important for us to track not only sales but redemptions," explains Anne. "Larry was able to understand exactly what we needed, and to program the system to deliver. It works for HELPP as well as regular lottery sales. Today everything is tracked directly through our POS system."
HHSVA Catapult POS System At A Glance
Armagh provided Catapult POS as a single-solution software that delivers flexibility and powerful features for Hamilton Health Sciences including:
Toshiba SurePOS 570 Touch Screen POS Hardware
Label Printing (Food)
Nevada Ticket Tracking (Gift Shops)
Scanning
Label and Tag Printing
Purchase Orders
Inventory Adjustments
Inventory Transfers
About HHSVA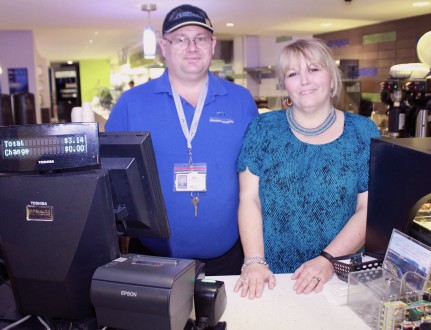 Hamilton Health Sciences Volunteer Association (HHSVA) is a non-profit organization that operates retail gift shops and food service outlets at six area hospitals:
McMaster University Medical Centre
Juravinski Hospital
Hamilton General Hospital
St. Peter's Hospital
Chedoke Hospital
Ron Joyce Children's Health Centre
Since 2010, the HHSVA has donated more than $60 million to health care initiatives in the hospitals it serves, operating 30 shops and services. In 2015/16, it poured than one million cups of coffee while serving more than four million customers.
About Armagh POS Solutions
Armagh has been serving the retail, restaurant and grocery industries in Canada since 1979, delivering solutions for a range of operators from single-unit small businesses to multi-unit national chains.
We are specialists in touch screen and scanning point of sale (POS) systems for both restaurants and retail stores, cash registers, scales, liquor inventory control systems, and grocery label and wrapping equipment.
With 40+ years POS industry experienced the sales staff at Armagh provides experienced consultants in point-of-purchase management, customer service efficiency, process automation, and restaurant order management.
Armagh's award-winning Catapult Retail POS Software and Digital Dining POS Restaurant Software are best-in-class, and Armagh is a QIR and Diamond Toshiba Alliance Partner.